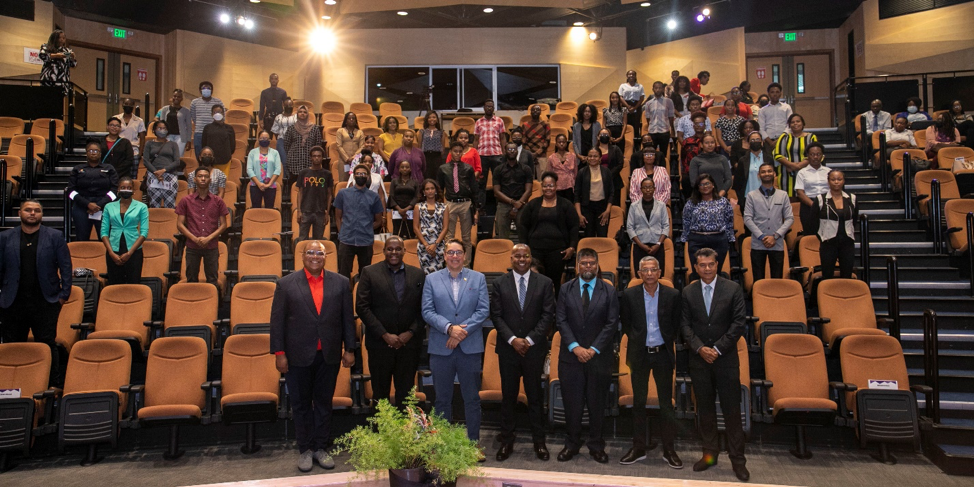 Cycle 2 of the Project Trending Programme was launched by the Ministry of Youth Development and National Service (MDYNS) today, Monday 13th March 2023 at the Government Campus Plaza, Port of Spain. This cycle will provide 120 small business owners and budding entrepreneurs with the practical knowledge, insights and social media management training required to manage their individual and business presence on social media/online platforms.
Minister of Youth Development and National Service, the Honourable Foster Cummings, in his Feature Address at the Launch, stated that "the overall future of our country resting deeply in the hands of the emerging generation, this programme is one of the many which fit in snugly into our overall national aspirations." Minister Cummings also stated that "Project Trending creates avenues for persons with an interest in Digital and Social Media to gain meaningful and rewarding outcomes."
Also delivering remarks at the Launch was Minister in the Office of the Prime Minister – Communications, the Honourable Symon De Nobriga who encouraged the participants to "seize the opportunity with both hands…embrace the digital space and utilize the platforms to communicate with the world".
In attendance, as well, was Chief Empowerment Officer at the CTS College of Business and Computer Science Ltd., Mr. Suruj Ragoonath who shared that CTS College intends to continue to work hand-in-hand with the MYDNS to deliver valuable knowledge and skills that will be pivotal in maximising business success and growth.
The Launch also included an address by the Deputy Permanent Secretary, MYDNS Mr. Haimdath Ramoutar, and a performance by Captain of Arima All Stars Steel Orchestra, Ms. Mahalia Thomas.
The Project Trending Programme will train young entrepreneurs between the ages of eighteen (18) to thirty-five (35) years on the importance of social media as it relates to business growth and success and tools for engaging in effective online marketing strategies. This seven-week Programme is geared toward engendering in youth, a sense of responsibility for the revitalization of our economic and social ecosystems post COVID-19.
The Ministry of Youth Development and National Service remains committed to bringing all key stakeholders together to promote youth development and encourage civic-minded citizens to contribute to national service across Trinidad and Tobago.
-END-