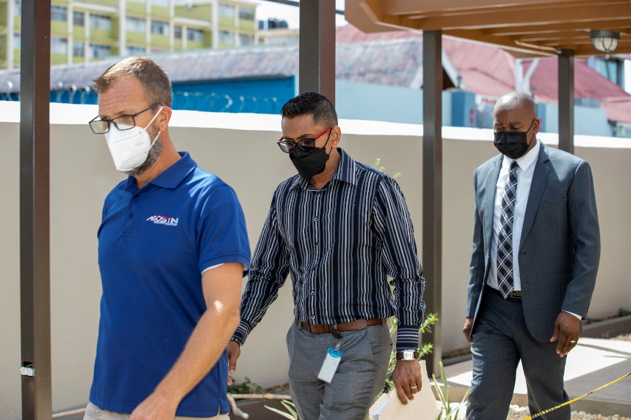 Port of Spain, March 14, 2022: Minister of Youth Development and National Service, the Honourable Foster Cummings, today visited the Josephine Shaw House, Henry Street Port of Spain.
Minister Cummings, accompanied by Permanent Secretary, Farook Hosein, Deputy Permanent Secretary, Cherryl-Ann Solomon and Director of Youth Affairs Sean Ramrattan, was greeted by Stuart Hutton, Project Manager – Agostini and Reuel Jaggernath, Senior Project Manager – Urban Development Corporation of Trinidad and Tobago (UDeCOTT), for a brief tour of the newly constructed Josephine Shaw House for women.
UDeCOTT managed the project, which was implemented in two (2) phases by Design- Build contractor – Agostini Ltd. The works included Demolition and Site Hoarding, Design, Construction and Outfitting of the new facility. The main building on the compound was previously demolished and a new building erected to provide a modern, welcoming environment that would accommodate females between the ages of 18 and 25 years.
The Josephine Shaw House was used as a transition home by the Salvation Army, to provide safe and secure housing for young women who were entering the work force or completing their education.
The Shaw House, when re-opened, will provide young women with a holistic development programme which incorporates; Psychosocial support, Skills Training, Career and Personal development and Job Placement for reintegration into society.
The Ministry of Youth Development and National Service remains committed to bringing all stakeholders together to promote youth development and encourages civic-minded citizens to contribute to national service across Trinidad and Tobago.

-END-