Farook Hosein
Permanent Secretary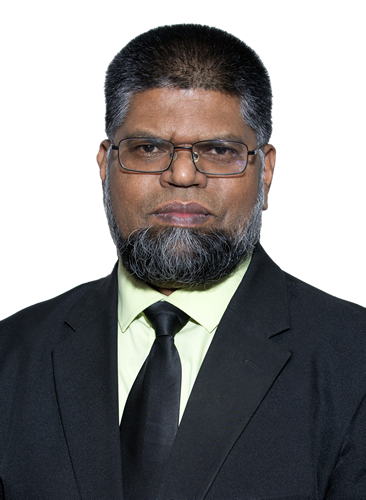 Mr. Farook Hosein is a career Public Servant, having joined the Public Service in 1986 as a Clerk I in the Ministry of Health.  He lives by a personal tenet of "Excellence in Service" and believes in continuous improvement to achieve this.
A graduate of the University of the West Indies, Mr. Hosein has earned a Bachelor's Degree in Economics, and Master of Science Degree in Public Sector Management.  He has also participated in training courses in Performance Management Leadership; Results-Based Management; Applied Policy Analysis; and Project Monitoring and Evaluation.
Following a brief stint at the Ministry of Works and Transport and the Personnel Department (Office of the Chief Personnel Officer), Mr. Hosein joined the Ministry of Agriculture, Land and Fisheries (MALF) in 1995.  It was there, that he spent the majority of his career, making notable professional strides and sharing his knowledge in areas of Policy Analysis and Programmes and Projects.
In 2017 he was promoted to the position of Deputy Permanent Secretary at MALF.  Mr. Hosein also acted as Permanent Secretary in the Ministry of Labour and Small Enterprise Development and the Ministry of Sport and Youth Affairs, before his 2020 appointment of Permanent Secretary (Ag.) in the newly-established Ministry of Youth Development and National Service (MYDNS).
Mr. Hosein provides strategic support to the Minister and is keen on implementing the Ministry's mandate to promote of National Service and advance the Youth Development Agenda.